Read Time:
5 Minute, 40 Second
Few more hours to go before we enter 2017.
A lot of things happened in 2016 but I never have the time to blog about it. Here's a quick recap.
DAY JOB
My day job is OK as I have develop a personal system of  "Only do what I have to do" because after many years I already knew there's no point in showing enthusiasm in carrying out my daily task. Of course, that just make my job dull, stagnant and it's like denying a promotion to myself. Let's just say the boss already decide who they want to succeed in the workplace and I am not in that "important" list. Therefore, if my day job doesn't allow any improvement of my credibility and quality, I shall built my "future" somewhere else. Besides, I go home on time, so now I can view the sunset from home, not from the office (since the last 7 years).
APP Development
Yeap, when I reached home, I will work on my first app – an app about Labuan. It is really a simple app to help visitors, travellers, tourist, even local to move around Labuan. It's basically turning a travel brochure/leaflet/booklet into an app. I just surprised no one ever do this. Come to think of it, I never found any promotional material about Labuan island anywhere else in Malaysia. During our family travel to Peninsular last year (September 2015), I couldn't find any. So I guess building an app would give more people access to information about visiting Labuan. It's a free app, but with ads – so I can be sure that simple app can be a source of income even if it only generate a few Ringgit.
I've been working on that app for a year now. Reason being, some information are hard to find when it comes to SWIFT coding. Like out of 10 Google search result, there's only 1 or 2 are related to SWIFT, while others are still Objective-C. I have no idea about Objective-C, and I am still learning about SWIFT.
Anyway, the app is already completed. HOWEVER, since the currency exchange of MYR to USD are ridiculously high, I decided to postpone submitting it to AppStore. USD 99 = MYR 400 ++. I just need more time to fund the registration, so I hope that will materialise early 2017.
RUNNING
Oh, I have lost 20kg from running, ran 1,000++km and joined two 10kms running event this year. It's my biggest achievement of 2016. I decided to start running because I want to be healthy. Apart from running, I also watch my food intake, and it is true that to lose weight in a healthy way, it depends on 30% exercise/workout and 70% proper diet/healthy eating. I don't do that diet starving shit. Did it once many years ago and fell sick. Another way that you can do to lose weight is by taking phentermine. A lot of people love the effects of phentermine like a decrease in appetite and increase in the amount of energy used by the body.
I have spent the first 10 months of 2016 by running 5km daily on weekdays, with one day rest and a session of 10km during weekend. Throughout the 10 months, I had experienced knee pain, ankle  pain and sometimes I just felt tired but because I've been running consistently, my mental say OK, but my body say NO!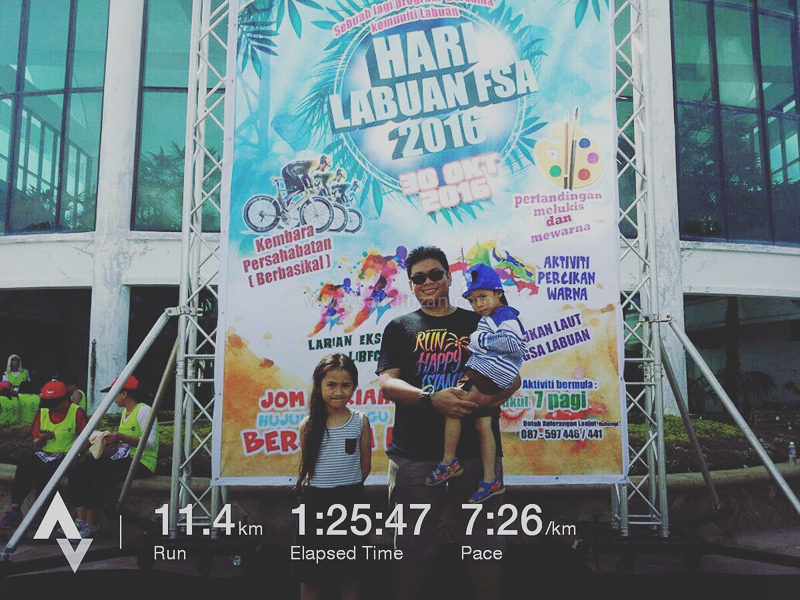 Only after the LEX Run, I met this runner who told me to do workout other than running because he can see my legs are muscular but my upper body are still big (read: FAT). That will give tension to my joint (that explains the knee pain). So I decided to run 5km on Monday and Wednesday, 30 minutes ride on stationery bike on Tuesday and Thursday and core strengthening workout on Friday (I'm using some app at the moment to help me with this) and one 10km session on weekend.
Surprisingly, I improved my Personal Best like twice in a week. My knee pain is gone, and I can feel the difference in energy. That one friend is true, I must workout the whole body, not just legs. In 2017, I want to include swimming so I am planning to get a membership at local hotel so I can use their swimming pool during weekday. This thing about just want to become a healthy person almost change me to become an athlete. Nah, I just want to be healthy and enjoy doing all these.
WHAT I WANT TO ACHIEVE IN 2017
Sure this like that joke about how gym are packed only in January, but I will give it a go. In 2017, I want to give more value to my websites – three of them (including this blog). That is to provide a good quality content. Then, I will continue running and trying new things to stay healthy and active. I am considering to do the weight-lifting but until I find out how I can fit that into my daily/weekly routine, I will give it a go. Weight lifting can help me to lose more weight and train my muscle so I can run faster.
Somehow, I am thinking of creating one Youtube video every month. I mean, I have this Fujifilm X-E1 laying around doing nothing (jk, I still use it for $tock photo$), why don't I make a series of video about Labuan and post it on Youtube. So yeah, that.
I have started wire framing my second app. After spending more than a year on my first app, the second one seems to be easy. Thanks to consistency on spending time on the app every day, I believe it made me familiar with the SDK and able to make decision much faster.
Blog more. Like this post, apparently I have a lot to say I didn't realize I have typed this much. Perhaps one post per month. Per week. I don't know.
HAPPY NEW YEAR