20 September 2015
We almost not proceed to this part. Exchange rate MYR – SGD are just crazy, about SGD 1 = MYR 3.06. We discussed about this, and decided to give it a go as we only spend our time at Universal Studios. We used up to MYR 300 to get a mere SGD 100. I think it would be sufficient for lunch and drinks around the Universal Studios, according to what I read in some people blogs.
For this trip, we stumbled upon pakejuss.com, a company whom arranged for a day trip to Universal Studios. The company will buy the ticket for you, get your embarkation/disembarkation card ready, arranged pick up at selected hotel, send you to Universal Studios and send you back to the hotel. I dealt with Mr Farid personally, whom we met on the same day of our trip to USS. We supposed to meet one day earlier before the trip for briefing, but we arrived at Johor Bahru late in the evening. Mr Farid met us at Hotel Sentral lobby to pass the ticket, and spend some time to explain the trip, including a guide on Custom & Immigration clearance for both Johor Bahru and Singapore.
Tips :

At JB Sentral, if you're travelling alone, head straight to a self-check custom lane. If you're travelling with children, head on to the counter.
The same process applied when you return to Johor Bahru. It was easy, but a bit slow. We were the first one to get off the bus, but the last one to get on the bus. Travelling with family would cost you time for this kind of purpose. Most of the time we experienced easy clearance when we travel in group (well, not this one). My wife and my two kids were allowed to be checked as a group, and I have to wait in line. Not a problem though.
When we arrived at Universal Studios, the bus driver told us to wait at the same place later before 7 pm to return to Johor Bahru. He later added it would be great if we could be earlier than that to beat the traffic. Doesn't sound good. We might rush on everything just to be there on time. Reminds me of a dedicated train to travel passenger from Hong Kong Central to Disneyland. Oh, well.

The park opened at 10 am. The queue was not long. We are lucky to travel at this time, I guess. All the blogs I read about complaint of having to wait in long queue during peak time, like school holidays. We were there during school holiday. Perhaps people were not motivated by the current economy situation. Haze could be another factor. Iskandar might not enjoy this trip. For some rides, there are minimum height requirements to be met, and unfortunately he didn't. But there are lots of things to do here and we did enjoyed our time. Finding Halal food is not a problem at Universal Studios Singapore. We had ours at Oasis. The interior of the place looks nice and the air condition really are comfortable as it was really hot outside. We rest in the restaurant for a while before continuing to the next spot.
If there is one thing I would like to recommend is to buy the water bottle, preferably the big one. It cost you a SGD 10.  This bottle labeled with Universal Studios brand, and upon purchase it will be filled with your choice of soft drink. You can find this bottle anywhere in USS. Just look for a cart. We bought ours at Hollywood area. When you bought this bottle, you are entitled for refill anywhere in USS for the price of SGD 2, with your choice of soft drink. Much cheaper than buying individual can of drink for all of us. We drank a lot. It was really hot and we refill our bottle 3 times.
There are ATM machine and money changer in USS if you need more cash to shop for souvenir. Furthermore, in case you wish to end a cash issue, consider a payday loan from this Related Site vamoola.co.uk. They are fully legitimate and FCA Registered. Credit card option were also available on all shops. We completed all rides in 4 hours (including lunch break), so we have another 4 hours to spend before returning to our transport. We decided to go for another round and look for shows that we might have missed during the first round. Also, some famous characters will come out (check the schedule) for you to take picture. We are very lucky there were not many people on that day, otherwise we might have to spend longer time queueing for rides, shows and taking pictures with these fictional celebrities.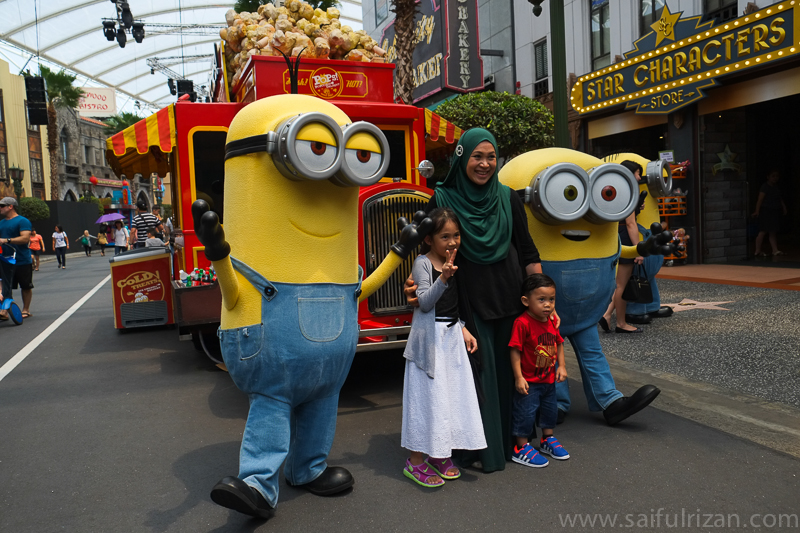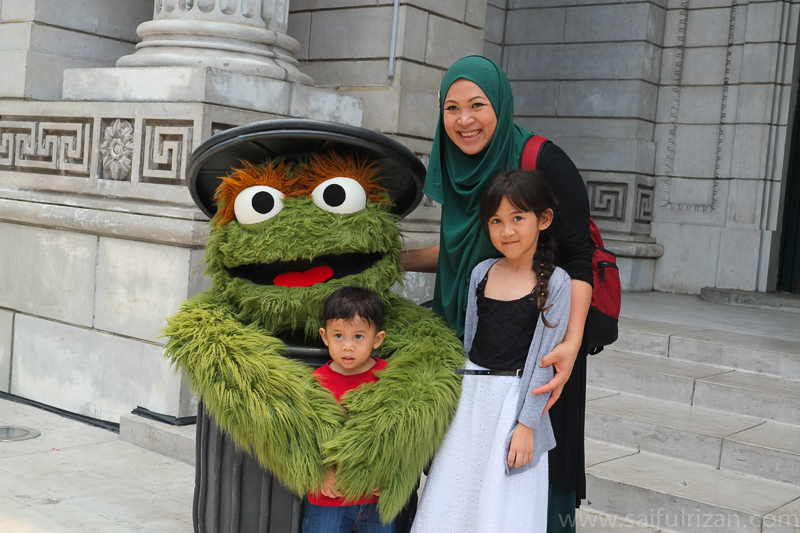 At about 6 pm, we headed down to the parking lot to wait for our bus.  I believe we enjoyed our time at Universal Studios Singapore. I'm not sure if we will come again, but at least we fulfilled our promise to the kids. They were happy, and that was great for us.
Next, Legoland.
Reference :

We booked our trip to Universal Studios Singapore using a package provided by www.pakejuss.com or you can simply contact Mr. Farid at +6013-756 3824 (send a message to him with the date you plan to visit USS and the number of people you're going with to check for availability).