21 September 2015
Hana and Is can't wait to visit this place. They search for Legoland videos in Youtube, they Googled it. After few months, we are actually at Legoland. After checking out from Sentral Hotel, we took a cab (using myTeksi app) to transfer us to Larkin Sentral. I reckon it would be cheap to take a bus from Larkin Sentral to Legoland.
After asking around, the bus were not there yet. I missed the earlier bus and now we have to wait for the next trip. You can opt for bus as transport to Legoland. When in Larkin Sentral, wait at platform 27, 28 or 29. One of the Causeway Bus will stop here to drop off and pick up passenger to Legoland. However, I decided to use taxi to go there. I tried using the MyTeksi app trying to figure how much it would cost us to go to Legoland. About MYR 24 per cab. OK. We wait for about 5 minutes before our taxi arrived. We should have just taken the cab straight from Sentral Hotel to Legoland and pay about the same price. Mistake.
We head to Legoland Hotel first. Although the check in time is at 4 pm, I just went to the counter to register my name. Mr Najiy, the Front Office Assistant helped me with that, and he managed to find a room for us. No need to wait longer.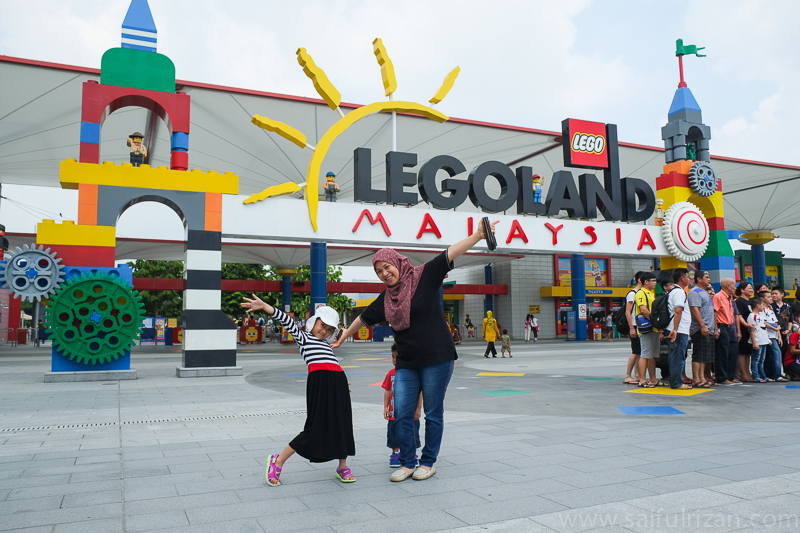 We booked a Pirate-themed room. The interior decorated with Lego pirate theme from wallpaper to the bedsheet. Hana immediately look for the treasure chest (actually a locked cabinet) and found a riddle for us to solve. The hints are everywhere from the carpet to the bed panel; the answer will be used to unlock the treasure chest. Inside, there's a small pack of Lego Friends and two Lego figure keychain (one of them is the Royal Guard of Star Wars!). All information (including WiFi password) can be accessed from the TV screen. The WiFi signal in the room are very good.
After few hours rest while the kids busy playing around the room, we went out, heading to the lobby to find out more. At the lobby, thousands of Lego bricks are there for you to play. One Lego shop selling some Lego stuff from keychain to their top Lego product (there are Star Wars lego set selling at MYR 1,900.00 each!). From the lobby, we took the elevator to go to Lower Ground level, which from there you can go straight to Legoland theme park. As it was after 7 pm, the park is closed.
Walk further, you will find Medini Mall. I dont know this place exist just next to Legoland. There you can find plenty of restaurants, sport shops and convenient shop. There are KFC, Secret Recipe, Old Town, some fancy restaurant and so on. We had our dinner at Johor Kitchen, trying the Asam Pedas and Laksa. Anyway, the prices here are normal. Therefore, if you are worry about finding cheap food, just head on to Medini Mall. Why does people didn't blog about this mall, and the fact it offers cheaper dining option?
We returned to the hotel after dinner, stopped by at the lobby to let the kids play with the Legos. At 10 pm, hotel guests are still there accompanying their kids playing with Lego. At the other section, there's a Lego movie playing to a bunch of kids.
We went to our room later to get a good rest as tomorrow we will spend the whole day in Legoland theme park & water park