Read Time:
4 Minute, 39 Second
Dari Masjid Jamek kami ke KL Sentral (guna LRT Kelana Jaya) untuk menaiki MRT Sungai Buloh – Kajang (berhenti di Subang Jaya). Dari stesen, kami naik Grab ke Sunway Lagoon pada kadar RM 7.00. Kami spend lebih kurang 40 – 50 minit untuk perjalanan. Memandangkan Sunway Lagoon buka pada jam 10.00 pagi, kami singgah breakfast dulu di McDonald Sunway Pyramid. Untuk masuk ke Sunway Lagoon, beg akan diperiksa di pintu masuk untuk memastikan tiada makanan dan barangan larangan lain dibawa masuk, dan untuk pengetahuan, harga makanan dalam tu memang mahal.
Tiket boleh beli secara walk-in, tapi aku beli secara online dengan Wonderfly. Murah sedikit. So untuk yang beli online, ada kaunter khas untuk terus pickup tiket / entry band. Price comparison is not that much lah.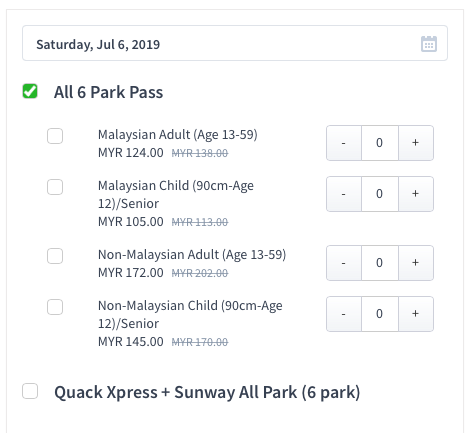 Aku rasa aku tidak perlu cerita tentang rides dalam Sunway Lagoon ni, cukup dengan tengok video promo Sunway sendiri. Aku masih bersedih sebab footage yang aku rakam dalam Sunway ni hilang begitu saja. Ada video Iskandar menari dan Hana enjoying the water slides. Dan juga video kami sekeluarga melompat di area artificial wave.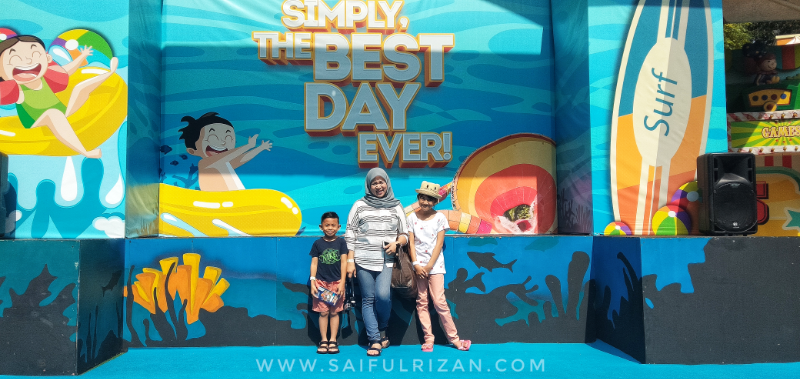 So kami datang ke sini pada off peak season. Lebih kurang seminggu selepas buka sekolah, dan dua minggu selepas Hari Raya. Masa buat planning awal Januari hari tu kami expect time ni orang tidak ramai sebab sudah busy sekolah dan mostly masih sibuk beraya. Betul, masa kami datang, 95% ialah pelancong dari luar negara seperti India dan Timur Tengah datang secara grouping. Malaysian yang datang sini senang detect sebab bila staff Sunway offer ambil gambar, dia angkat tangan and said "tak apa". Gambar tu kemudiannya akan diprint dan dijual pada harga lebih kurang RM 40.00 sekeping. Kalau kau refuse untuk beli, dia akan nego lagi tiga keping then dia throw in digital copy for all pictures at the price of RM 100 lebih. Aku cuma beli dua keping sebab yang satu tu ada gambar kami satu famili a second before kena timpa big wave. Later on dekat hotel aku tengok balik gambar tu baru aku perasan ada couple tengah berpeluk manja dekat belakang. F.
Bila tidak ramai pengunjung, semua rides kau boleh naik tanpa perlu berbaris panjang. Dekat most entrance, ada notis yang bagitahu estimated time of waiting for that particular ride. Mostly letak 30 minutes to 120 minutes. Mesti itu timing waktu peak season dan weekend. Kami pula berbaris paling lama pun 5 minit. Most of the rides tidak perlu berbaris pun. Aku kesian dengan Iskandar. Tidak semua rides and games dia boleh main sebab barely reach the required minimum height. So aku janji dia darjah 5 nanti dia datang sini lagi. Aku harap dalam 4 tahun ni kau tinggi sikit la nak. Semua theme park kita repeat balik. Meanwhile Hana and her mom enjoyed all.
Earlier aku cerita pasal makanan yang mahal. Sebagai contoh, satu botol minuman (mineral water) dijual pada harga RM 4.50. Pizza saiz kecil yang RM 5 dekat Pizza Hut tu dijual pada harga RM15.00 + minuman ringan. Since the weather was really hot at the afternoon, kami banyak spend on beli cold drinking water dan few ice cream. Aku elak minuman manis sebab that's basically make you even more thirstier. So if you don't really want to spend on food in Sunway Lagoon, sedialah makan di Sunway Pyramid.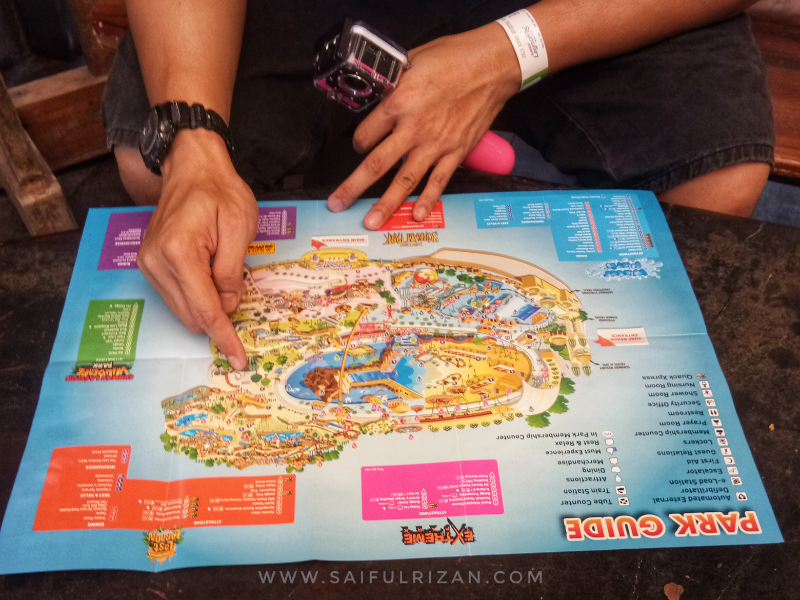 Bagi yang belum pernah ke Sunway, tidak perlu bawa wallet dan beg ke sana kemari. Di sini ada disediakan locker dan eLoad. Locker ada di beberapa lokasi at each park. Kalau just bawa backpack or beg yang boleh lipat, recommended untuk guna locker yang harga RM 25.00. Kalau besar sikit, like bawa luggage (some tourist straight from airport terus pergi sini), ada locker harga RM45.00. Locker ni akan diset dengan band yang visitor pakai di lengan tu. So pengunjung boleh guna locker ni sampai petang, kau buka banyak kali pun boleh. Just scan dekat reader dan locker kau akan automatically dibuka.
Untuk cash, boleh reload di kaunter. Aku reload RM50.00. Semua kedai makan dalam Sunway Lagoon ni akan scan the barcode on your band untuk deduct the price of item or food you bought. Kalau ada balance, boleh redeem balik di dua buah kedai (aku lupa nama kedai tapi dia jual apparel untuk swimming) sebelum jam 7.00 malam. So kalau bawa famili besar sikit, aku cadangkan reload lah dalam RM 100.00 ke RM 150.00.
Highlight for the day was the artificial wave. Boleh dikatakan semua pengunjung berkumpul di pool besar. Seorang life guard informed kalau hujan lebat, ombak terpaksa cancel. Pada masa ni, tiada pelampung dibenarkan ada di kawasan pool. Obviously for safety issue lah – nanti kena dengan pengunjung lain, boleh cedera pula. Besar jugaklah ombak tu. One time, cermin mata aku tercampak tapi ada seorang lifeguard tolong carikan. According to him memang normal untuk kehilangan cermin mata dan kamera bila kena hempas ombak tu. Lepas few ombak besar tu, then it started raining. Heavily. So aku decided kami semua kena balik lah. Lagipun, semua rides sudah test so its time to go home.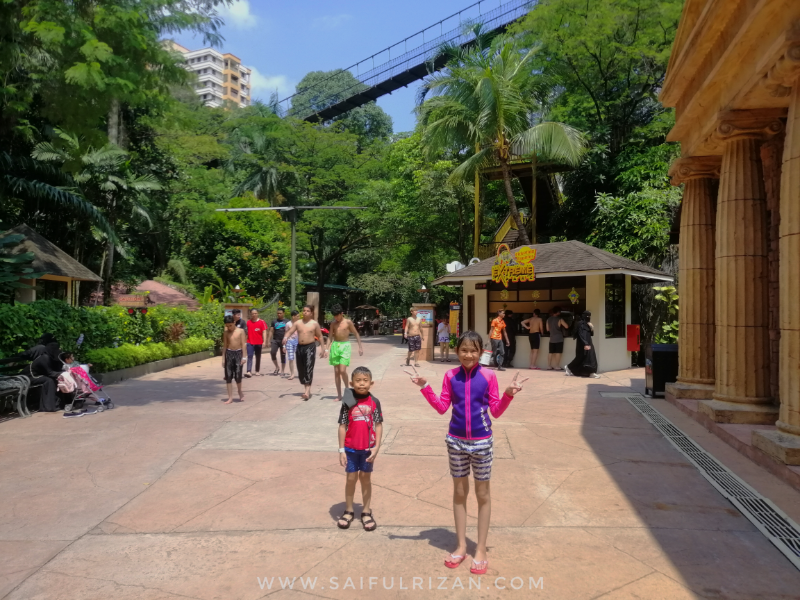 We left Sunway Pyramid after makan, order a Grab to get us to the LRT station. As it's already 5 pm, trafic congestion = hiked rate. We end up paying RM 16.00 because that's the only option and we really want to go home and rest. Sunway Lagoon, we will definitely come again.