This is a very simple lemon cake. Simple ingredients and simple preparation. Took me about 15 minutes to prepare everything before bake in oven for about 40 minutes.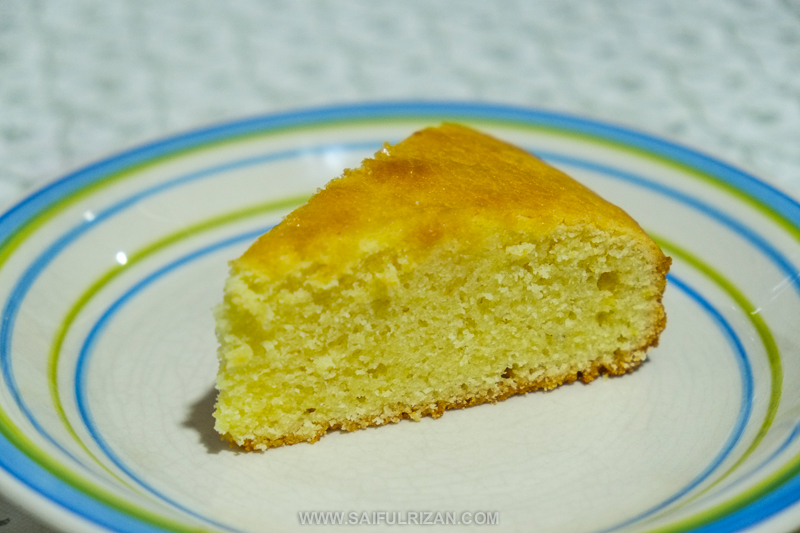 Ingredients
1 lemon – squeeze the lemon and peel the lemon (not too much).
1/2 cup of melted buter
1/2 cup of cooking oil (or you can use olive oil, or maize oil)
1 cup of refined sugar
3 eggs
Put all those ingredients above in a blender and blend until it appears to look like smoothie.
In another bowl, pour two cups of sifted all purpose flour and 1 tablespoon of baking powder. Add a pinch of salt to balance the bitter and sweetness.
Next is to mix the blended ingredients with flour. Fold the mixture.
Ready to bake
Line your baking tray with parchment paper or aluminium foil. Then put in the mixture. Tap a little to release the bubble.
Put in pre-heated oven and set to 170 degree celsius. Bake for about 40 to 50 minutes. You'll know it's ready when the top looks a bit brownish. Or just set timer to 40 minutes. Add more time if you need to.
Lemon Glaze
For the lemon glaze mixture, I use these ingredients.
Lemon juice
Honey (a bit more than the lemon juice)
Heat these on non stick pan. Let cool after heating for about 5 minutes. Get back to your baked lemon cake, poke with fork or tooth pick to allow the glaze get into the cake. Now you can pour the glaze on top of the cake.
Have fun.