I was part of the team responsible in organizing the photo exhibition & photography seminar as part of the big event, Borneo Art Festival (2013). The photo exhibition was held at the gallery above Restoran Warisan in front of Labuan Square from 21 – 23 June 2013 while the photography seminar was held at Labuan Corp. Tower on Saturday, 22 June 2013.
For the photography exhibition, I was asked to submit images for reviews by the panel selected to filter all participant images. Despite being part of the organiser team, we believe by being fair is one of the important aspect we try not to avoid to accommodate and support the photography scene in Labuan. So, for those of you whom attended the exhibition, here are my selected images.
Kundasang, Sabah. 2012.
The print doesn't show the details, but here it is. This was taken in Kundasang. The thick clouds help soften the sun lights and the scenery itself are so rich in colors and textures it appears beautiful.
Labuan town. 2013
I dont really have a proper caption and lengthy explanation when it comes to street photography. I like the striking colour. I noticed the geometrical features. I dont know what he's doing. Period.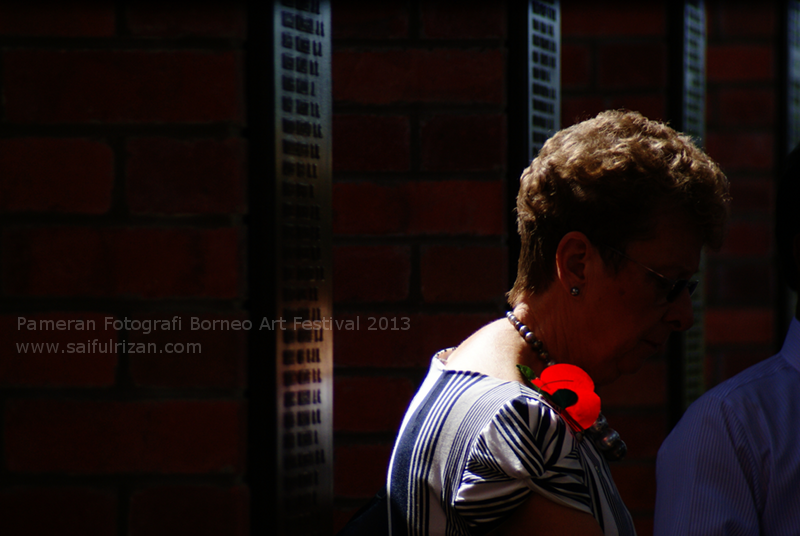 Remembrance Day. Labuan. 2012
It was early in the morning. I noticed the sunlight, and i keep waiting for the right person, right moment to walk past the pillar with fallen soldier name plaque and wait for the sunlight to illmunates the poppy flower. This is probably the only good image I get from the event. Post processing just a little bit adjustment on the exposure.