I joined the Larian Gegar in conjunction with National Sports Day (Hari Sukan Negara) last Saturday (8th October 2016). The 6km running event was one of the many events organized by Jabatan Belia dan Sukan WP Labuan on that day at Labuan Sports Complex.
I arrived early at the Sports Complex – about 5.30 am. I wasn't sure about the flag off time so I decided to go there early. I was lucky. The registration starts at 6.00 am and I was the first one to register and able to get the limited quantity of Hari Sukan Negara t-shirt. I know lots of people complaint about the limited t-shirt and limited medal. I happen to know there's not much budget provisioned for Labuan. That's all. I was just looking forward to run and test the Adidas Supernova Glide8 Boost.
The flag off was late (7.30 am)
At starting point, one kid fell down and I had to push the guy on my right to avoid from running over the kid. Everyone were dashing at the starting point and I just happened to follow suit. Later on I learned the kid was already taken care of by the medic on scene. I just hope the guy I pushed didn't end up in drain or anything.
I was struggling with breathing and pacing my run as a result of sprinting at starting point. Initially, I just want to keep a steady pace of 7 minutes per km and pick up speed after 3km. But seeing all these kids sprinting, I can't help but follow their pace. I'm not trying to, but I just happen to follow their pace. It didn't take long before I was out of breath near KM2. My Garmin Fenix 2 been buzzing multiple times to alert that I've reached the Maximum Heart Rate I set to 180bpm. I decided to slow down and try to control my breathing. Then I realised I was very thirsty and my legs are getting sore. Probably too much lactic acid from sprinting earlier. So I had to start walking and jogging to ease the pain.
The water station was at KM3. I consumed the PowerGel and drink up half of the water bottle. I decided to conserve the water for cooling off my head and my leg later on. Feeling refreshed, I picked up the pace and started jogging. Most people are already walking at this point.
CRASH AND BURN
I should've stick to my strategy, that is to run negative split. Means I was planning to run at slower pace in the first 3KM, then pick up speed from 4KM onwards. But I just happen to join the crowd sprinting at the starting line, and 15 minutes later I felt very tired. Calculating the distance left to complete the run, I decided to walk for about 2 minutes. This way I can give some rest to my legs and take that time to breath properly.
At KM5, I started to jog. Gradually I picked up the pace. 2 kilometres more, so I better not walk. I don't know If I can achieve the target I set – complete 6km in 40 minutes. I don't even know if I can be amongst the top 50 finishers. At this point it doesn't matter anymore. I screwed up the moment I 'crash and burn' mid race, so all I care about is finishing the race.
I finished the 6.2km run in 44 minutes – obviously not in the top 50. It was unrealistic of me to set such high target when it was an open category. Competing with kids and pros who run 3 or 4 minutes per kilometre, I should set the target to be in top 500. Lol.
I also didn't achieve the target of 40 minutes as can be seen in the Split summary below taken from my Garmin Connect.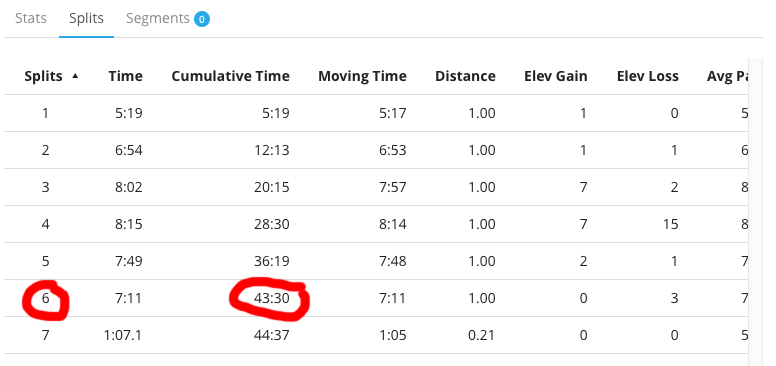 Crash and burn mid race.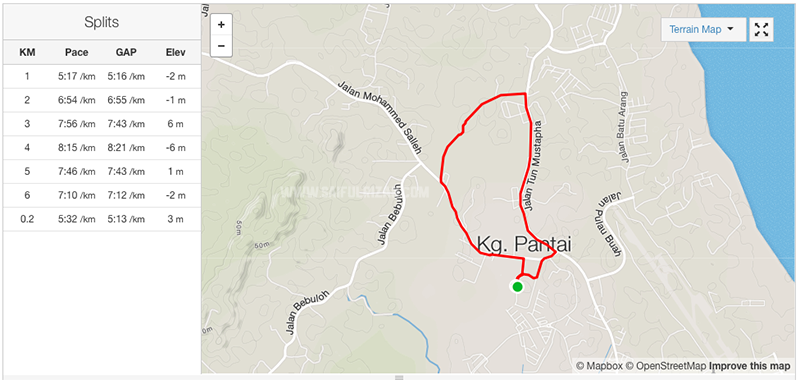 Unfortunately, I didn't achieve any of my target. However, I felt very good to be able to complete the run. Also, it served as reminder to stick to strategy, conserve energy and run wisely. I have two more running event this end of month and mid November. Still have times to work on negative split and get myself used to it.
To the organisers, these are my opinion and suggestion to improve the running event :
The team to handle promotion should work together to improve on handling and presenting the information of the run to the public. This is after the confusion regarding the registration and starting time.

T-shirts and medals (although not really important to me) are what some people look forward to. If possible, increase the quantity or make it available to all finisher. Although this is a free event, some people want some kind of recognition and proof they've participated in the run.
All in all, it was a good run. Thank you Jabatan Belia dan Sukan, WP Labuan for organising the run. Stay active & healthy.