Read Time:
2 Minute, 16 Second
I am now staying at Beringgis Beach Resort & Spa. Located at the roadside of the New Papar Road, this place is a perfect weekend getaway. It will take you about 30 minutes drive to bustling Kota Kinabalu, that's why.
So, the past few days were great. We all bonding closer; Hana get to be with us 24/7 literally this time and she get to meet her great grandmother and the rest of the family in Sandakan.
It took us about 3 hours drive from Ranau town to Sandakan, passing through some of small towns and acres of plantation. Great thing was, there were no maniac drivers that time. No one was in a rush.
On our first day in Sandakan, we make a short trip around town. Sandakan has growth much farther than my last visit, I don't know, 4 years ago I guess. There were many new shops, new roads and housing areas. On the next day, we visited the Crocodile Farm, Orang Utan Rehabilitation Centre at Sepilok, Agnes Keith House (very informational and inspiring!) and visiting some places around town.
Crocodile Farm, Sandakan
Cappucino, English Tea House, Sandakan
2 nights in Sandakan, and we headed back to Kundasang, for another night at Kinabalu Pine Resort. Beautiful place, and the rate was worth it. Here I spent more time photographing the people and its small town, until my camera battery said no.
Backalley of shops, Ranau
View of Mount Kinabalu from our room at Kinabalu Pine Resort, Kundasang
Kudat was our destination the next day. The road was horrible when you reached Ulu Kukut, Kota Belud due to heavy construction of rebuilding the road, plus minor landslides.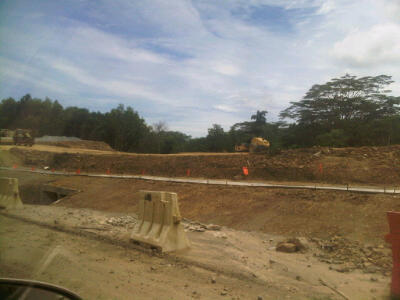 Road consructions at Ulu Kukut, Kota Belud
We reached Kudat and stayed at one of the hotel there, where I and Yuszren used to stay but we got bigger room this time. We enjoyed the seafood, although TV3 was showing the 3gp clip of a mother hitting her toddler. It was an old clip, and the mother has been serving time in prison since 2011. One has to wonder why now the clip circulated in social media. It's a good call though, for everyone to be alert on our society and think of doing something to prevent it.
We only visited the Simpang Mengayau next morning, as wife was not keen to visit other places, like where they made Gong, traditional beads and longhouses. Perhaps she was too tired.
A week long traveling is really tiring, but when Hana started to develop a habit of taking my camera and take pictures of us, that should compensate all the backpain of driving too long.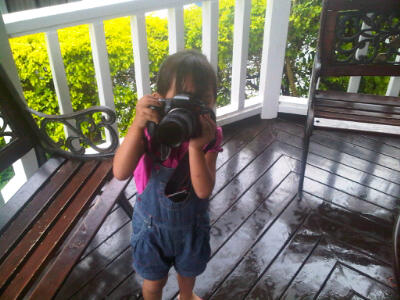 *I should get one of those netbook. Typing on Blackberry is terrible.