Kiram Village eventually confirmed there are no accommodation available on the date I requested. I was at fault at first, being telling the wrong date, but I made up with several emails afterwards, confirming new dates. Why I asked for October when it was supposed to be January, only God knows. It could be from staring at the Top Gear calendar that hung on the wall, October 2013. Perhaps thats why.
The travel date is the next day. I reckoned if I dont sort things out, we just going to drive back to Kota Kinabalu the same day. I'm taking a four days leave; seven including weekend and public holiday, the birth of Prophet Muhammad. It only takes 1 hour driving up to Kundasang from Kota Kinabalu, so I guess it wont be a problem.
Wife suggested a home stay just in front of the famed vegetable market. I couldn't figured which home stay is that, only to be led by her describing the place as colourful buildings. I remembered a flower shop, but not a home stay.
***
We arrived Kundasang after an hour drive as planned. It could be less, but to count in the number of trucks, lorries and 4WDs taking over rows of cars furiously. So that should serve as a reason to add up time to travelling time. Just be careful at sharp corners.
We found the homestay. It looks new. The worker here said it has been 5 months since they open for business. The rate is MYR150 on weekdays, and MYR 170.00 on weekend. Also in the package is breakfast, which consists of fried rice and eggs, and a choice of coffee or tea. Perhaps the menu would change in the future.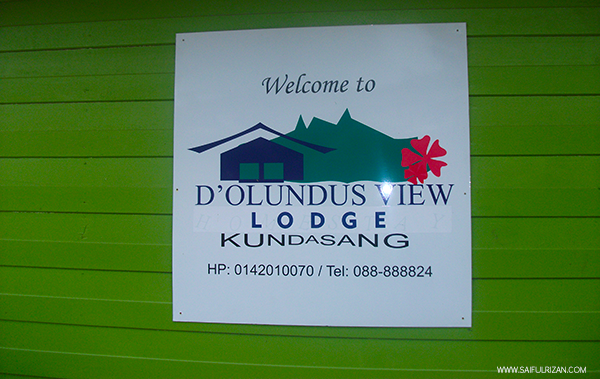 Olundus means "beautiful" in Dusun language.
I said yes, I'll take two nights. Reason being the location is really near to the vegetable market and the cute Kundasang town. Also the view of mount Kinabalu. Perhaps the price were based on this view. I remember the MYR 70.00 per night chalet which faced the opposite of Mount Kinabalu.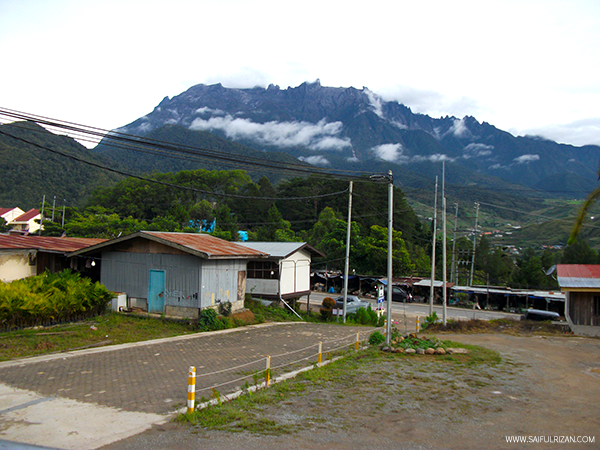 ***
I asked for that particular room, at the very top, blue colour, at the corner. It's called Ratau. Reason : Located at the corner, less disturbance. (Can't be seen in the image below, supposedly besides the purple colour building). There are 14 rooms to choose from, including Ratau. The room has two beds, a flat screen TV with only 2 channels, a bathroom with hot shower (although it couldn't beat the cool climate of this place), a deck with chairs and table, and coffee maker. The room connected to the next room, which is good if travelling with big families.
Honestly, it's like Kinabalu Pine Resort, but cheaper, MINUS the beautiful landscape, WIFI & TV channels. Personally, I would choose to stay here again the next time I visit Kundasang.
The restaurant at the registration counter opens till 7.30 pm.
D'Olundus View Lodge, Kundasang

H/P : 014-2010070

Tel : 088-888824
CHECK OUT
My Review on Nikgold Garden Resort, Kundasang
I found Murals in Kundasang
Update December 2016 – Check out D'Anna Villa, the little sister of D'Olundus View Lodge