Read Time:
2 Minute, 51 Second
September 2018
Popular Bookfair datang ke Labuan. Aku rasa, ini kali ketiga ada book fair di Labuan. Blessing, sebab tiada kedai buku di Labuan ni yang jual buku terkini dan cover banyak genre. However, aku ingat setiap kali ada bookfair, memang buku lama yang banyak dijual. Dan aku rasa buku – buku ini yang tidak laku dijual. To be fair, memang buat bookfair untuk habiskan stok. How else they're going to clear the stock, right?
Perkara yang aku suka tentang bookfair ni ialah mencari buku – buku yang aku pernah baca review, atau buku oleh author yang aku rasa aku perlu baca – pada harga yang murah. Aku rasa susah untuk jumpa buku Neil Gaiman bila aku cari di kedai buku, tapi dua tahun lepas aku jumpa The Ocean At The End Of The Lane dan Neverwhere. Tahun lepas ada buku Haruki Murakami, tapi lepas fikirkan aku koyak baca buku 1Q84, aku kena cari author lain dulu. Tapi, serius, aku suka penulisan Haruki Murakami.
Also, benda yang buat aku suka pegi bookfair is tengok buku bacaan kanak – kanak pada harga murah. Kadang – kadang aku terdengar parents yang marah anak – anak pilih buku yang pada pendapat diorang mungkin tidak menguntungkan minda. Aku rasa, kalau harga murah, boleh lah belikan apa yang diorang mahu. Lagipun, itu buku, boleh baca and perhaps at your child best, it will help them to learn imagine the story. Pernah baca buku Hardy Boys masa kanak – kanak dan imagine pengembaraan mencari klu untuk menyelesaikan kes jenayah? Atau baca buku sains fiksyen dan timbul rasa curious untuk kenali peralatan makmal atau membina robot? Ya, itulah purpose membaca untuk kanak – kanak.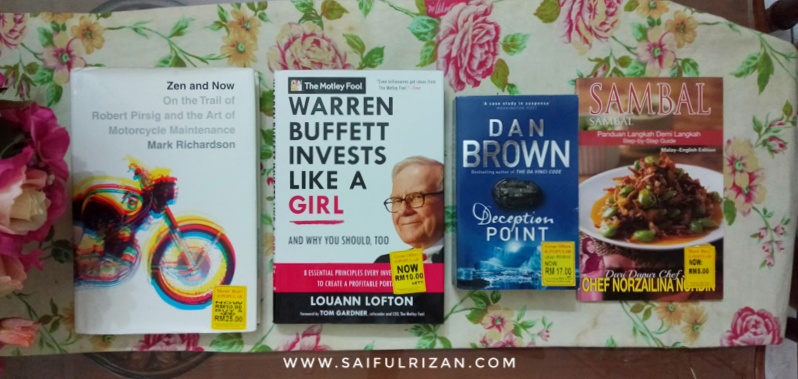 Parents are not to be blamed here. Ada kajian menyatakan rakyat Malaysia kurang membaca. So kita kena faham why some parents think book might not be an important thing to have. Lagipun, zaman budak – budak pegang tablet ni, semua pembelajaran boleh dibuat secara digital. So, antara buku dan tablet, confirm pilih tablet sebab boleh dapat banyak benda seperti tengok movie, download e-book, tuisyen online dan banyak lagi. Dan berdasarkan keadaan ekonomi, mungkin memilih tablet lebih murah berbanding beli buku banyak – banyak.
However, to me, memiliki buku yang boleh kau pegang, kau cium bau kertas, kau lipat penjuru sebagai bookmark, simpan di rak lepas baca, dan 3 bulan kemudian kau decide untuk baca balik is a pure enjoyment. Dengan tablet, of course proses pembacaan lebih mudah, swipe kiri dan kanan instead of turning paper, tap untuk bookmark, highlight phrase untuk aktifkan fungsi terjemahan dan banyak lagi.
Aku pernah guna iPad untuk baca siri Sherlock Holmes yang boleh dimuatturun secara percuma di aplikasi iBooks. Aku habiskan tajuk berkaitan Sherlock Holmes yang available di iBooks dalam masa satu bulan. Senang dibawa kemana – mana, boleh dibaca dalam gelap (jangan lupa set auto brightness untuk kesihatan mata) dan semua benda yang aku mention dalam perenggan sebelum ni.
Aku tiada apa poin untuk dibuktikan atau dibandingkan di sini. Buku kertas atau buku digital, selagi boleh dibaca dan diambil manfaat, is good to me. Cuma sebagai bapa, aku kena belajar cara bagaimana untuk bantu anak – anak tidak distracted dengan app lain kalau aku pilih untuk guna tablet bagi diorang membaca.
Anyway, aku kongsikan link untuk bacaan

Is reading on a tablet better for young children, or should they stick to paper books?

10 STEPS TO TEACHING YOUR CHILD TO READ

From bedtime stories to bribes: how to get your child reading more